Custom Portable Displays
Custom Portable Displays
Custom Portable Trade Show Exhibits
Grow Smart to Stand Apart

Instand is more than a pop-up trade show display frame, it's the hardest working investment you'll ever make. Instand pop up displays are scalable to grow right along with your business needs. By connecting to other Nomadic systems, Instand is truly unique in its ability to form selling environments of genuine distinction that we call "custom portables." No other system offers you as much.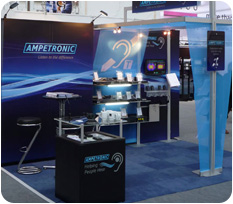 The modular nature of the stand is great as it has allowed us to get good value from it in a wide range of different exhibition environments.

Julian Pieters, Managing Director, Ampetronic
> Meet our Clients
Experience a New Level of Exhibiting with Foundation
Fresh and innovative, Foundation is the solution for exhibitors that want a new look and all the savings benefits of a lightweight, ultra-portable, custom pop-up display. Foundation offers ultimate Stand Apart Style and flexibility; go from show to show, and easily change or re-arrange your trade show display.

Foundation is an ingenious, tool-free custom riser that blends Instand® pop-up display systems with a new line of upscale, functional accessory options to create exhibit designs that redefine the trade show exhibitor's expectations of custom portable displays.

Foundation accessories mount anywhere along its durable built-in front rail.
MAXimize your budget with our MINI version of Foundation
Many exhibitors continue to seek ways to extend their reach without denting their wallets. The MINI version of Nomadic Display's popular Instand Foundation pop up display provides money-conscious exhibitors the opportunity to amp up their presentation display at a lower cost. Mini Foundation blends Stand Apart style with easy set-up and economical transport in UPS/FedEx/airline checkable shipping cases.

Bring your brand to life with a myriad of display options including:
Wide screen monitor up to 32" for power packed presentations
Profile headers and layered fins for added dimension
Shelves and literature racks for product display
Counters with logo-engraved tops & lockable storage
Nomadic Display leads the world in supplying custom modular and custom portable displays for trade shows, events, and mobile marketing presentations. Blending custom display impact with major cost-savings (thanks to the unrivaled lightweight portability), Nomadic promises its clients a greater return on event marketing program investment.